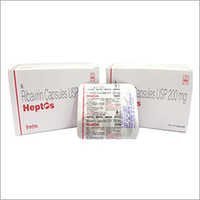 Ribavirin 200mg Capsules
Product Description
With rich domain expertise, we have been affianced in supplying the high quality Ribavirin 200mg Capsules. All the products are formulated by using the finest quality components and advanced technology, in set with the quality standards. Further, we are offering the Ribavirin 200mg Capsules in different packaging options at nominal rates.
Other Details :
Chronic hepatitis C infection can cause serious liver problems such as scarring (cirrhosis), or liver cancer.
It is used in combination with other antiviral medications (such as interferon, sofosbuvir) to treat chronic (long-lasting) hepatitis C, a viral infection of the liver.
It works by reducing the amount of hepatitis C virus in your body, which may help your liver recover.