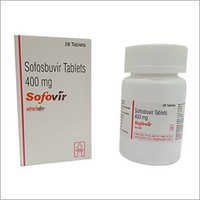 Sofosbuvir Tablets 400 mg
Product Description
Our firm is a trustworthy Supplier and Exporter of Ledipasvir Sofosbuvir Ledifos Tablets, which must be used in combination with other HCV medications such as Ribavirin and Pegylated interferon. It is a drug, that has revolutionized the treatment of Chronic Hepatitis C virus (HCV) infection and works on HCV genotypes 1, 2, 3 and 4. We promise to supply the chemically tested and safe medicines. Apart from this, the Ledipasvir Sofosbuvir Ledifos Tablets is available to us at affordable prices.
Other Information :
It is a medicine used for chronic hepatitis C infection.
Treating chronic hepatitis C virus (HCV) infection in infected in various victims
It is an HCV nucleotide analog polymerase inhibitor.
Reduces the amount of HCV in the body by preventing the spread of it in the entire body.